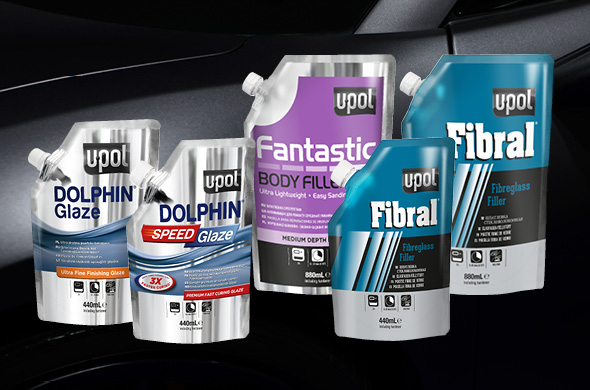 BENEFITS OF OUR NEW AND IMPROVED BAG
Bag stands for ease of handling, merchandising and storage.
The nozzle is angled for easier, cleaner product distribution.
Visible tamper proof cap on nozzle.
Manufactured from premium high quality foil.
BENEFITS OF DOLPHIN GLAZES
Easy to apply.
Self-levelling.
Minimal sanding.
Eliminates surface imperfections.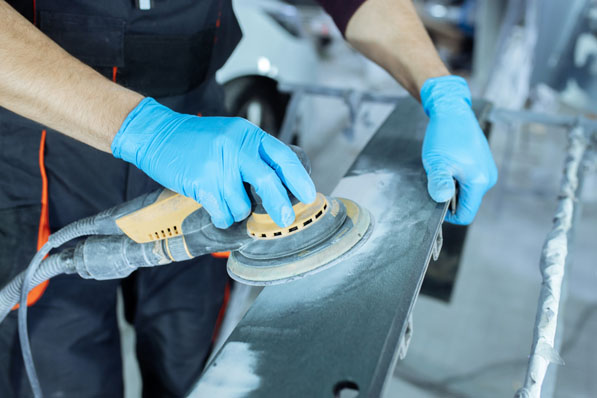 Built on these unrivalled foundations the next generation of U-POL Dolphin fillers will ensure you get a perfect finish. Formulated with technically advanced resin technology, these high strength, ultra-fine fillers ensure the perfect feather edge, high adhesion across all automotive metal substrates and a super smooth, easy to sand finish.
Now in a new bag with great new benefits. Easier to use, reduce waste and improve productivity!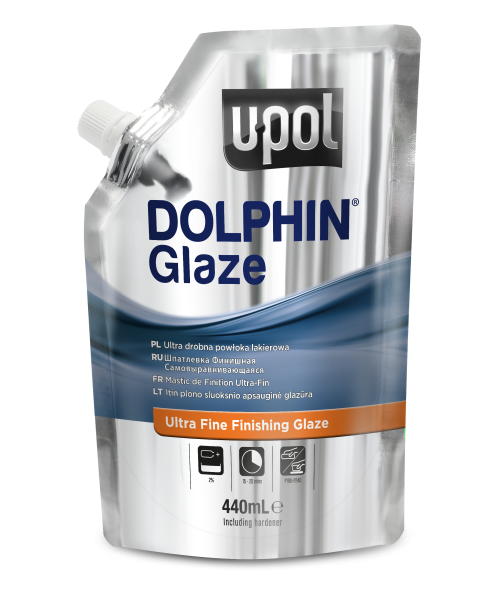 Dolphin Glaze
Dolphin Glaze is a premium, technically advanced finishing glaze designed to eliminate pinholes and surface imperfections prior to painting. Its self-leveling formulation gives a smooth ultra fine finish which requires minimal sanding.
Pinhole resistant
Excellent adhesion
Semi-flexible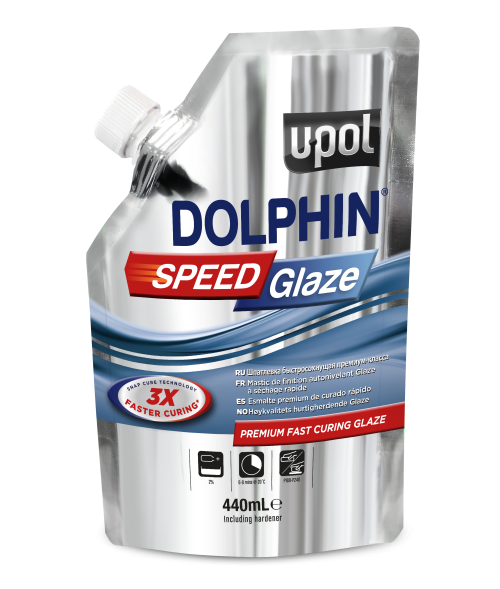 Dolphin Speed Glaze
Dolphin Speed Glaze is a premium fast curing glaze with snap cure technology that can cure up to 3 times faster than standard Dolphin Glaze. Dolphin Speed Glaze is the most premium glaze that U-Pol offer. An advanced lightweight formula for correcting minor imperfections such as pinholes, scratches and stone chips. This ultra-fast drying formulation is exceptionally smooth and very fine.
Self-levelling
Cures in 6-8 minutes
Ultra fine, easy to sand
Large nozzle to enable an easy pour