U-POL's ACID #8 – The First Line of Defence.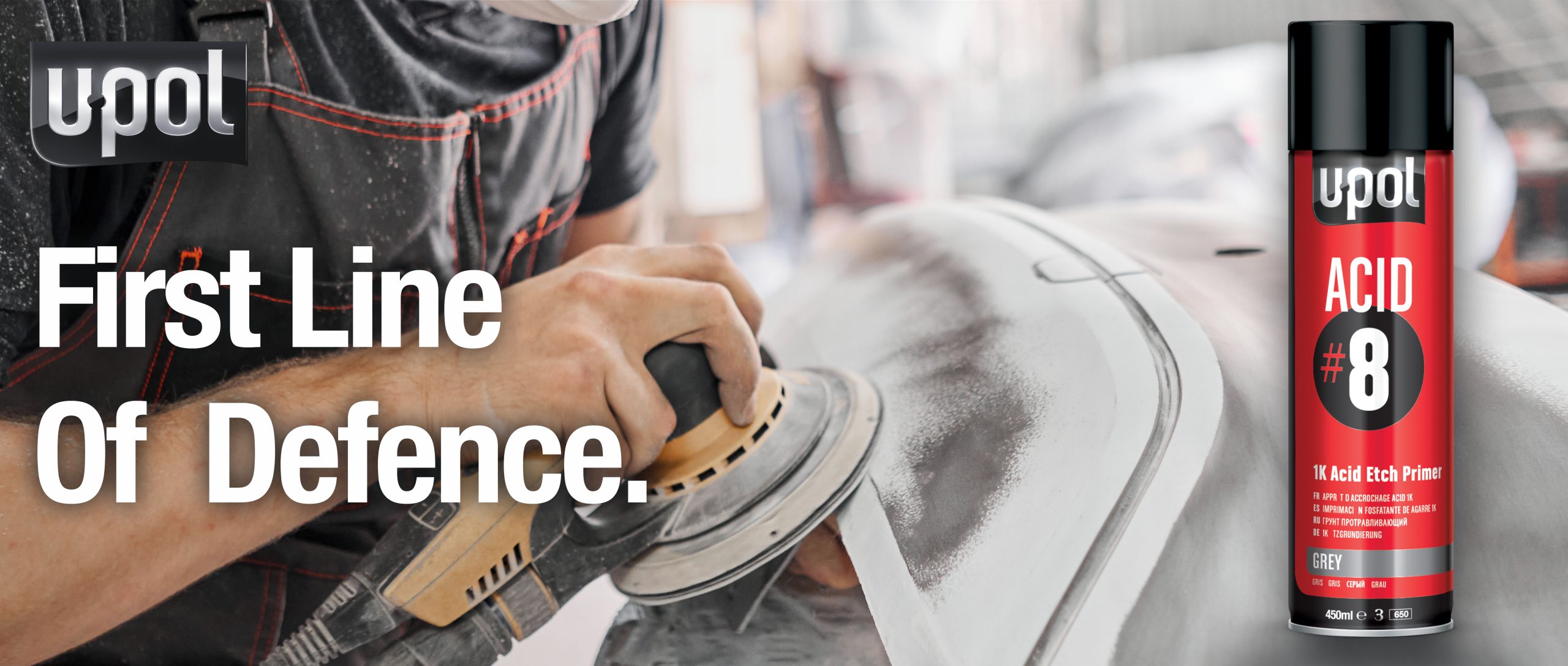 Written by Kane Whittaker
It's almost impossible to go the whole life of your vehicle without a supermarket trolley rolling into your door, squeezing into a questionably sized car park, or your kids backing into a stobey pole on their Learner Plates. I'm guessing you don't have a Bodyshop worth of compressors, spray booths and paint machines in the shed to get the repairs done at home? Or maybe you just want to streamline your Bodyshop workflow? Luckily, there are products on the market that allow us to cut out the expensive machinery, while maintaining a Bodyshop quality finish, at home, in your driveway, or in the booth.
Its what's underneath that counts
You could have an immaculate paint job on your pride and joy, however it's what you can't see that counts the most. There are many steps in crafting the perfect paint job, but if the coatings underneath are not suited, all those hours of hard work will be worthless. Primers are the undercoat that separate the coating from the surface, it ensures better adhesion, and increases the durability of your surface against rust and corrosion. U-pol provides a range of brilliant aerosol primers such as HIGH #5 and System 20 High Build Primers; however, primers are not always the frontline of defence…
What makes U-pol's ACID#8 different?
When undertaking the coating process, some substrates and areas are harder to adhere to due to their material nature, not to mention rub through areas. As a part of U-pol's premium aerosol range, ACID#8 1k Acid Etch Primer, promotes further adhesion to substrates such as galvanised steel and aluminium. The ACID#8 formula provides a superior etch primer with faster drying times, excellent corrosion resistance, and a smooth finish ready for overcoating. Our specially designed formula even contains real acid to further etch itself into material surfaces. ACID#8 1k acid etch primer is the key component to the perfect paint job.
The first line of defence
Whether you're doing the job at home, or you're a paint professional, ACID#8 will save you time, money, and give your pride and joy the extra protection it needs to last the test of time.